Don't get lost in marketing…
Marketing Maps is a tool to support the right decisions regarding company marketing activities. Create a work plan for SEO and PPC tasks as recommended by top experts in the field.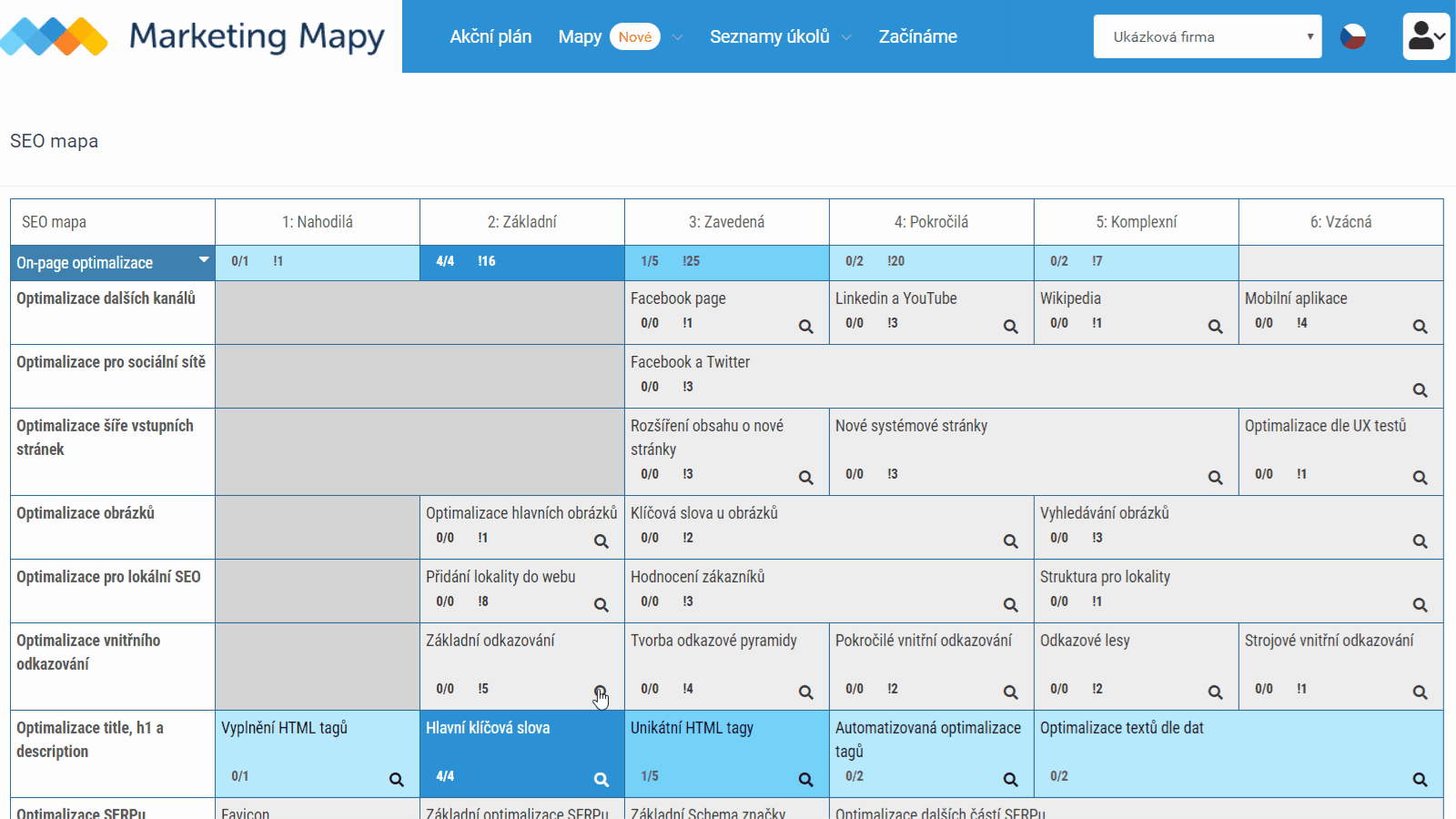 Marketing Maps help you navigate the world of online marketing and choose the right tasks to work on
33 topics
380 verified tasks
Technical SEO, On-Page Factors, Website Content, Indexability, Link-building, Evaluation, Cooperation, Project Management
Map description
23 topics
347 verified tasks
Quality Score, Optimization and Account Structure, Working with Keywords, Campaign Types (PLA, DSA, DRTG, a others), Evaluation, Cooperation a PPC Management
Map description
Project maturity
1
Aimless
2
Basic
3
Established
4
Advanced
5
Complex
6
Rare
We've divided the tasks into 6 groups based on project maturity. Are you just beginning with SEO? Work on tasks with maturity 1 & 2. Do you have years of PPC experience under your belt? Choose levels 4 to 6 of your project's maturity. Maturity levels are unique elements of the project. We're turning dull checklists into a tool, that will help you choose the right tasks at the right time. More on project maturity.
Tool implementation methodology
Business audit
Weaknesses identification
List of specific tasks from field experts
Mapping of tasks across marketing channels
Overview of project development
More on how to use the maps.
The tool is suitable for
Business Owners or Marketing Directors
You will find "common grounds" with specialists and agencies
Find the business development plan in your action plan.
You can point your finger on the map and say: "This is where we are and this is where we are headed."
SEO, PPC, Analytics Specialist
You will show your client or your manager what you are working on and what are the current priorities.
Have an overview of marketing tasks of all specialists SEO/PPC/GA….
DIY Marketing
Your tasks will be ordered and prioritized. You will know what to work on and what to hire a specialist for.
You will easily identify your weak spots after performing a business audit.
Marketing Maps project founders
Experts Panel