Do you need to get traffic from Search Engines effectively? Do you need to improve your PPC campaigns? Then take advantage of hundreds of tasks available in the PPC map: PLA, Adverts, Sklik, Clicks, Search Terms, Quality Score, CPC, Tracking, Scripts, Ad Text Length, Display Campaigns, Check-ups, Feed management, Brand, KPIs, Ad Groups, Ads, Labels, Targeting, Match Type, Automation, Cart,…
Scope of PPC Map
347

verified tasks

124

free tasks

23

topics

5

focus areas

94

task categories

7

experts

182

hours of work
PPC Map Pricing
Basic version of PPC Map
Free
1 year
Full version of PPC Map
from 47 EUR/monthly
1 year
Buy after registration
Price for the full Map version is based on a 12 month subscription with all updates. More about pricing.
You can test the tool functions on your first PPC tasks without any commitments in the Basic version. The Basic version contains 100+ tasks to get started with PPC.
Map Preview: PPC Task List
Hundreds of tasks in one place
Due to a lot of prassure from Google, which is leading the development of the paid online advertising industry, PPC Specialist are presented with new and new opportunities for campaign management almost every week. Keeping up with all the fast changes is demanding. You also need to decide, which of the 347 PPC tasks you should be paying attention to right now. The PPC Map will help you with that. Choose the tasks which are relevant for you right now – they fall into your current Maturity Level, they are sufficiently beneficial for your business and are adequately demanding.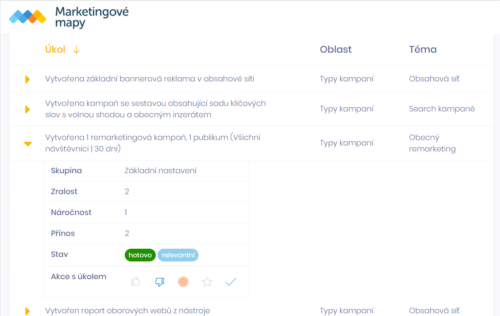 Panel of Experts creating the PPC map
The PPC Map was created by 7 experts, that have spent 98 hours on the project.