Do you wont your website to be Search Engine friendly and drive traffic to it? Then you will be working on hundreds of tasks, that can be found in the SEO Map: Content, Sitemaps, On-page optimization, Robots.txt, Crawling, Indexing, Analytics, Link-building, HTML, Meta Tags, Duplicities, 4XX Errors, Meta Titles, Language targetting, Schema mark-up, Errors, Google Search Console, Noindex tag, Pagination, Locations, E-A-T, Website Architecture, Keyword Analysis, Parameters…
Scope of the SEO Map
380

verified tasks

33

topics

8

focus areas

139

task categories

7

experts

192

hours of work
SEO Map Pricing
Basic version of SEO Map
Free
1 year
Full version of SEO Map
from 47 EUR/monthly
1 year
Buy after registration
Price for the full Map version is based on a 12 month subscription with all updates. More about pricing.
You can test the tool functions on your first SEO tasks without any commitments in the Basic version. The Basic version contains 100+ tasks to get started with SEO.
Map Preview: SEO Tasks List
Hundreds of tasks in one place
Get an overview of all tasks in one place. You will see all the tasks in one list and can easily assign a priority for each of them.
This way you won't forget an important task.
All tasks are curated by top experts in the field.
Tasks are separated into 6 project maturity levels. This shows which tasks you should be paying attention to at a given time.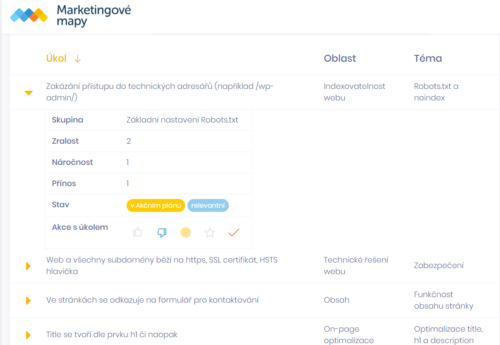 Panel of Experts creating the SEO Map
Even the best SEO Specialists can't always be certain that they master SEO perfectly and know all the current requierements and functionalities. That's why we have invited a team of experts to collectively create one complex knowledge database, which was then transformed into a list of tasks.
The panel of experts meats regularly to share their knowledge and make sure that no crucial task is omitted.
The SEO Map was created by 7 experts, that have spent 192 of hours on the project.